Toro Flex800 34B, 35B & 35-6B Block Series Part & Full Circle Pop-up Sprinkler
SKU:

TOR0950.

UPC:

Availability:

In Stock

Shipping:

Calculated at Checkout
Description
Toro Flex800 34B, 35B & 35-6B Block Series Part & Full Circle Pop-up Sprinkler Series 1" gear-drive rotor
The FLEX800™ B Series golf sprinkler family brings you all the great features and performance of the FLEX800 35-6, 34 and 35 Series sprinklers in a more economical body package specifically designed for block systems. With its rugged golf body design, small exposed surface diameter, flanged body for stability and check valve these sprinklers are perfect for every golf application.
Features & Benefits
1 Industry's Largest Nozzle Selection
Nozzles from 7.6 – 29.0m (25' to 95') radius, plus a wide assortment of intermediate and inner nozzles, provide unmatched flexibility allowing you to put the precise amount of water exactly where you need it. All nozzles threaded in from front.

2 True Part and Full-Circle in One – 40° - 330° Part
Circle and 360º Full Circle
These sprinklers can be 360º full circle or part circle allowing you to adjust the area of coverage to match your seasonal needs or meet water rationing mandates.

3 Flanged Cap Installs Below Grade
Stabilizes the body position and maintains optimum nozzle performance.

4 Small Exposed Diameter
Minimizes the appearance of the sprinkler to maximize the beauty of the course. Perfect for high traffic areas like tees, greens and surrounds.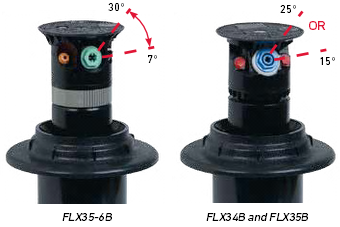 Nozzle Trajectory Provides Unmatched Performance
FLX35-6B with TruJectory™ adjustment from 7°-30° in 1° increments and FLX35/FLX34 models with dual trajectory settings of 25° or 15° provide improved wind performance, obstacle avoidance and radius adjustment.
Operating Specifications
Inlet:
• 1" BSP
Radius:
• FLX35-6B: 9m – 29m (29'– 95')
• FLX35B: 9m – 27m (29'– 90')
• FLX34B: 17m – 29m (57'– 95')
Flow Rate:
• FLX35-6B: 26,8 – 198,7 LPM (7.1 – 52.5 gpm)
• FLX35B: 31,0 – 213,1 LPM (8.2 – 56.3 gpm)
• FLX34B: 49,2 – 209,7 LPM (13.0 – 55.4 gpm)
Precipitation Rates:
• FLX35-6B: 9,8 – 16,3mm/hr (.39 – .64"/hr)
• FLX35B: 10,8 – 19,4mm/hr (.43 – .76"/hr)
• FLX34B: 9,8 – 16,2mm/hr (.39 – .64"/hr)
Recommended Operating Pressure
• 4,4 – 6,9 Bar (65-100 psi)
Trajectory:
• FLX35-6B – 7°-30° in 1° increments; 24 positions
• FLX35B - 15° or 25° - 2 positions
• FLX34B - 15° or 25° - 2 positions
• Check-O-Matic feature prevents low head drainage up to 10' of elevation change
Nozzle Selection
• Nozzle variations
- FLX35-6B - Eight variations (31, 32, 33, 34, 35, 36, 37 & 38)
- FLX35B - Eight variations (31, 32, 33, 34, 35, 36, 37 & 38)
- FLX34B – Eight variations (31, 32, 33, 34, 35, 36, 37 & 38)
• Back nozzle capability on part circle models standard
- FLX35-6B – one position available
- FLX35B – two positions available
• FLX34B – two additional front nozzle positions
• Main-less capability for short radius applications
• Stator variations:
- FLX35-6B, FLX35: 3
- FLX34: 2
• Radius reduction screw for fine tuning the radius (363-4839).
Standard on FLX35B; optional on FLX34B and not available
on FLX35-6B models
Dimensions
• Body diameter: 15,2cm (6")
• Body height: 21,6cm (8½")
Weight:
• FLX35-6B: 0,9kg (1.99 lbs)
• FLX35B: 0,9kg (2 lbs)
• FLX34B: 0,89kg (1.97 lbs)
• Pop-up height to nozzle: 8.25cm (3¼")
Flex800 Block Sprinklers by Wayne Seaman on Scribd
View All
Close