Bowling Green 9 Sprinkler Automatic Watering Systems
Availability:

3 to 5 days

Shipping:

Calculated at Checkout
Description
9 Sprinkler Automatic Watering Irrigation System for Standard Bowls Greens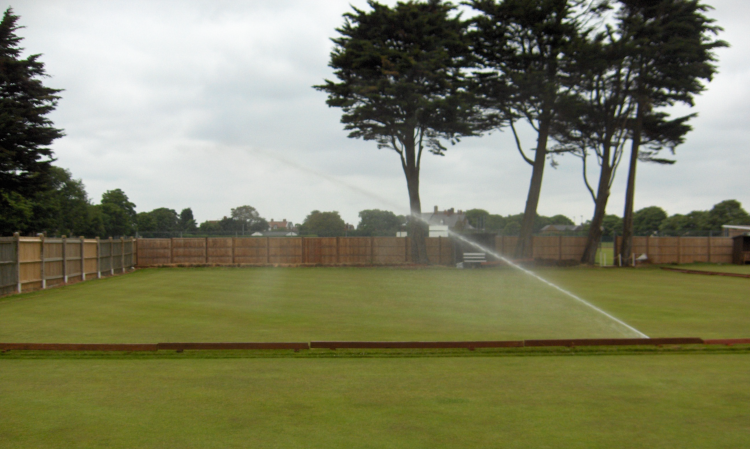 The Kit can consist of one 2500 litre water storage tank complete with outlet, isolator valve and hose to connect to pump unit. Supply one ball float valve complete with 25 metres of 25mm blue water pipe, isolator valve, drain point and connection to your existing water supply (automatic mains water fill for tank).
The water storage tank is optional. If you have an existing tank or you want to collect rain water you can upgrade to the size of tank required.

Supply one Automatic on/off pump complete with dry run protection, manual isolator valve and polyethylene pipe connection.

Supply 200 metres of polyethylene (PE) pipe to form a ring main around the perimeter of the green to be trenched approximately to a depth of between 12 - 18" underground and following the gulley, comes with drain-off facility for frost protection during winter months.

Supply fittings for eight take offs each to an automatic control valve and Hunter part circle pop-up sprinkler.

Ninth take off to be one automatic control valve with quick release hose connection for to Tricoflex hose and a remote full circle Hunter sprinkler manually positioned in the middle of the green.

Supply one 9 station fully programmable controller.

How the Systems Works

Water is piped from the water main into a holding tank then pumped by a pressure pump, usually 2hp (1.5Kw) single phase, into a 'ring main' of polyethylene pipe round the green. Eight high capacity pop-up sprinklers are installed around the green.

The control valves, which are linked to the controller by 0.8mm low voltage cable laid with the pipe. Normally closed, the valves are opened by the controller for an individually pre-determined time, allowing each sprinkler to operate individually.

The controller has three independent programs with 4 start times per program for a total of up to 12 start times per day. Watering times shall be available from 1 to 99 minutes in 1-minute increments per station. Controller has a weekly 7-day calendar or a 1 - 31 days interval watering, that allows user to choose day(s) of week for desired watering. Operation shall be available in automatic, semi-automatic and manual modes. Battery back-up shall retain the time when there is power cuts.
All programming shall be accomplished by use of a programming dial and selection buttons with user feedback provided by a LCD display.

Electric requirements are two 13 amp plug sockets.
Pump comes pre-assembled ready to connect suction to the tank and discharge to PE pipe.
Complete D.I.Y. Package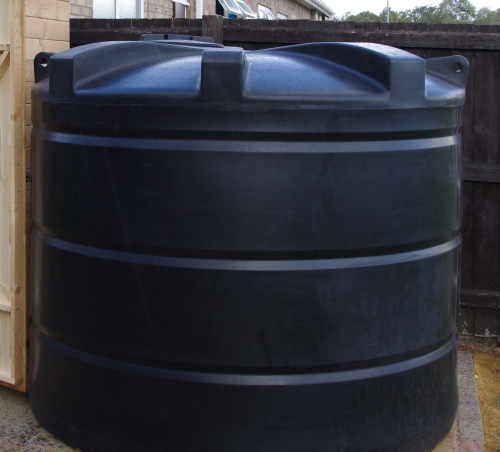 Hortech offer a unique service by providing a specifically designed package of equipment, complete to the last fitting, for the club to install using their own labour. This can achieve considerable savings and give great satisfaction to the club members involved.
Kit Consists of:
Tank (optional)
Pump
Pipework and fittings
9 Automatic control valves for sprinklers including cabling
8 Part-circle sprinklers for perimeter of Green
1 Full-circle sprinkler on tripod for centre of Green
Automatic programmable controller
Installation instructions

OPTIONAL Installation and Service

A Typical system can be installed and working in about a week, with minimal interference to play. The system is planned to suit your individual requirements and supplied complete. Installation is by Hortech's own engineers, who also provide after sale service.
Tank Capacity
Dimensions
Diameter x height
Litres
Gallons
700
155
700mm Dia x 2150mm H
2500
550
1400 dia x 1800 H
4000
881
1900 dia x 1875 H
5000
1101
1900 dia x 2185 H
10000
2202
2400 dia x 2500 H
Mains water fill float valve and pipe kit consists of;
25 metres of 25mm Blue mains water pipe
1 x compression stop cock
1 x 25mm x drain point x 25mm compression tee
4 x 25mm compression elbow
3 x 25mm x ¾" compression adaptor
1 x ¾" Double check valve
1 x ¾" Polypropylene socket
1 x ¾" Polypropylene M/F elbow 90
1 x ¾" Ball valve assembly
1 x ¾" Ball valve float
2 metres of 25mm lagging for pipe above ground
View All
Close